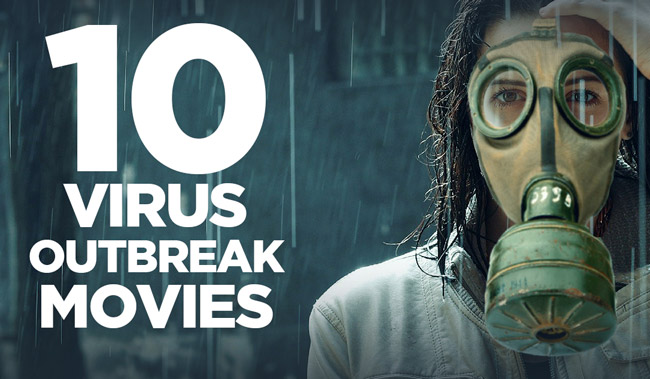 The year is 2020 and COVID-19 is spreading. And although it sounds like a blockbuster movie plot as so many have done before (see list below) can we really look to films for advice or the best way to respond to a global pandemic? Probably not, as it is Hollywood fiction and we don't see Brad Pitt raid the toilet paper aisle in any films do we? Perhaps we can get some pointers and take comfort knowing that in (majority of) these films, in the end, the world will be saved (maybe even by a badass Milla Jovovich type). Proceed with caution *elbow tap*.
1. Contagion
When Beth Emhoff (Gwyneth Paltrow) returns to Minneapolis from business in Hong Kong, what she thought was jet lag takes a virulent turn. Two days later, she's dead in the ER and the doctors tell her shocked and grieving husband (Matt Damon) they have no idea why. Soon more cases are reported as the virus begins to spread. Researchers mobilize to break the code of this unique biological pathogen as it continues to mutate. Deputy Director Cheever (Laurence Fishburne) tries to allay the growing panic despite his own personal concerns, and must send a brave young doctor (Kate Winslet) into harm's way. As the death toll escalates and people struggle to protect themselves and their loved ones in a society breaking down, one activist blogger (Jude Law) claims the public isn't getting the truth about what's really going on, and sets off an epidemic of paranoia and fear as infectious as the virus itself.
Article continues after this ad
Advertisement
2. Outbreak
A dangerous airborne virus threatens civilization in this tense thriller. After an African monkey carrying a lethal virus is smuggled into the U.S., an outbreak occurs in a California town. To control the spread of the disease, a team of doctors is brought in that includes a contagious disease expert (Dustin Hoffman) and his ex-wife (Rene Russo). Once the Army intervenes to handle the situation, though, the doctors must fight against the clock to save the town and its residents.
3. The Stand
Article continues after this ad
Advertisement
After a deadly plague kills most of the world's population, the remaining survivors split into two groups – one led by a benevolent elder and the other by a maleficent being – to face each other in a final battle between good and evil.
4. 12 Monkeys
An intense film about time travel, this sci-fi entry was directed by Terry Gilliam, a member of the comedy troupe Monty Python. The film stars Bruce Willis as James Cole, a prisoner of the state in the year 2035 who can earn parole if he agrees to travel back in time and thwart a devastating plague. The virus has wiped out most of the Earth's population and the remainder live underground because the air is poisonous. Returning to the year 1990, six years before the start of the plague, Cole is soon imprisoned in a psychiatric facility because his warnings sound like mad ravings. There he meets a scientist named Dr. Kathryn Railly (Madeleine Stowe) and Jeffrey Goines (Brad Pitt), the mad son of an eminent virologist (Christopher Plummer). Cole is returned by the authorities to the year 2035, and finally ends up at his intended destination in 1996. He kidnaps Dr. Railly in order to enlist her help in his quest. Cole discovers graffiti by an apparent animal rights group called the Army of the Twelve Monkeys, but as he delves into the mystery, he hears voices, loses his bearings, and doubts his own sanity. He must figure out if Goines, who seems to be a raving lunatic, holds the key to the puzzle.
Article continues after this ad
Advertisement
5. Cabin Fever
Executive producer Eli Roth presents this reboot of his instant-classic gorefest, which features all-new characters and all-new kills. The story is familiar: Fresh out of college, a group of five friends retreat to a remote cabin in the woods for one last week of partying – only to become snacks for a gruesome, flesh-eating virus. This fresh spin on a horror-comedy milestone stars Gage Golightly (Exeter, Teen Wolf), Nadine Crocker (Deadgirl), Samuel Davis (Machete Kills, Sin City: A Dame to Kill For) and Dustin Ingram (Paranormal Activity 3).
6. I Am Legend
Robert Neville is the last man alive. He busies himself with preparing for a nightly attack from the rest of the world – all of which have transformed into blood-thirsty vampires.
Article continues after this ad
Advertisement
7. 28 Days Later
A powerful virus is unleashed. Transmitted in a drop of blood and devastating within seconds, the virus locks those infected into a permanent state of murderous rage. Within 28 days the country is overwhelmed and a handful of survivors begin their attempts to salvage a future, little realising that the deadly virus is not the only thing that threatens them.
8. World War Z
Article continues after this ad
Advertisement
When former U.N. investigator Gerry Lane (Brad Pitt) and his family get stuck in urban gridlock, he senses that it's no ordinary traffic jam. His suspicions are confirmed when, suddenly, the city erupts into chaos. A lethal virus, spread through a single bite, is turning healthy people into something vicious, unthinking and feral. As the pandemic threatens to consume humanity, Gerry leads a worldwide search to find the source of the infection and, with luck, a way to halt its spread.
9. Resident Evil 1
Based on the popular video game, Milla Jovovich and Michelle Rodriguez star as the leaders of a commando team who must break into "the hive," a vast underground genetics laboratory operated by the powerful Umbrella Corporation. There, a deadly virus has been unleashed, killing the lab's personnel and resurrecting them as the evil Un-dead. The team has just three hours to shut down the lab's supercomputer and close the facility before the virus threatens to overrun the Earth.
Article continues after this ad
Advertisement
10. Maggie
As a virulent zombie epidemic spreads terror across the globe, a father (Arnold Schwarzenegger) will stop at nothing to care for his infected daughter (Abigail Breslin).