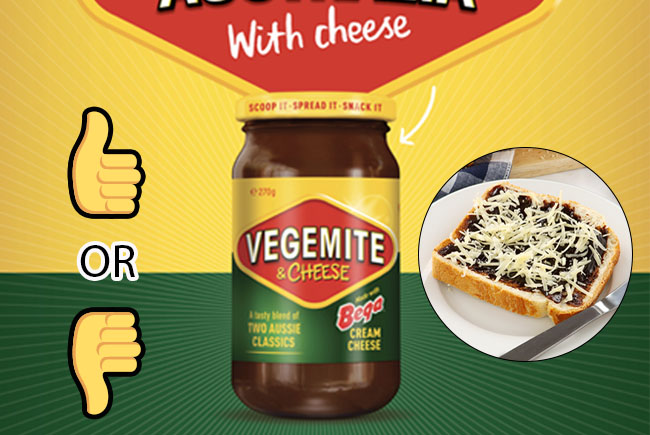 Vegemite on its own or with other foods? It's the classic debate…
Cheesybite – the Vegemite and cream cheese combo offering a toned down version of the Aussie classic – has been relaunched as Vegemite & Cheese.
The refresh includes a new look as well, with the label proudly showing the Aussie-owned Bega logo, and of course it's now made from Bega Cream Cheese.
Article continues after this ad
Advertisement
Bega bought Vegemite off American-owned Kraft in 2017, returning it to Australian hands, and this is the first major product launch since then.
The 'new' product has confused some people and brought up memories of previous versions of this Vegemite and cheese combo, including the disaster that was iSnack 2.0 back in 2009.
I don't understand how @Vegemite are saying this Vegemite + cheese is a new product like we just wouldn't remember the last two attempts they've made at launching the exact same product?

— Joe (@Joe__Curtis) February 10, 2022
Discontinued foods continued …
73. @Vegemite iSnack 2.0#lestweforget pic.twitter.com/VgFVYAQoRP

— australian kitsch 🦘 (@OzKitsch) January 23, 2017
Article continues after this ad
Advertisement
At least we can blame Kraft for that.
One commenter thought the new product was fine, but said its presentation needed some swirly goodness.
Hey Vegemite, I have an idea for your cheesy spreads.

Instead of blending them together to make another brown colour, why night start with the cheese and put a Vegemite swirl through it like they do with chocolate in a drumstick ice-cream. It would look way more appealing.

— Tania Kyriakou (@TaniaKyriakou) February 10, 2022
But most of all it has reignited the age-old debate about how we eat Vegemite.
Are you a purist, choosing only to eat it on toast with butter, or are you a fan of Vegemite and other foods?
Article continues after this ad
Advertisement
Yep and like cheese and vegemite (and tomato) will last longer than any celeb couple 😃

— Tara (@TaraN71563887) February 7, 2022
You know it might be time to cut back on the butter when you make a vegemite sandwich and the lads ask what type of cheese is that 🤷🏻‍♂️ it's not cheese

— Grogs 🇦🇺🍺🇦🇺❤️💚 (@grogsy28) February 7, 2022
Vegemite on a schnitzel. Let @LukeDennehy be the judge. pic.twitter.com/JsgVVD5jr5

— Ms Mansk (@msmansk) February 5, 2022
Yes, this one's real!
I think I've gotta have this one in the bag….
Proud Aussie with my special, Vegemite Ice cream. pic.twitter.com/AVzlp3UcMc

— enterthephantom (@nft_phantom) February 8, 2022
Article continues after this ad
Advertisement
You know it might be time to cut back on the butter when you make a vegemite sandwich and the lads ask what type of cheese is that 🤷🏻‍♂️ it's not cheese

— Grogs 🇦🇺🍺🇦🇺❤️💚 (@grogsy28) February 7, 2022
Image: Instagram/vegemite, jabiru/Shutterstock