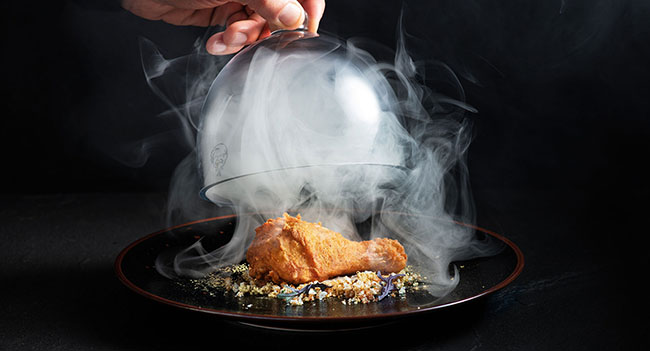 Can fast food be as delicious as fine dining? KFC thinks so! Even if one US show host is making fun of it all…
Forget 11 herbs and spices – KFC is offering an 11 course fine dining menu featuring its most iconic dishes and ingredients.
The special menu is said to be a world-first and aims to provide "the most hectic chicken-based meal of your life".
Article continues after this ad
Advertisement
KFC promises diners will "experience KFC in ways they could never have imagined" and the meal will also be paired with wine, or "liquid seasoning" as KFC describes it.
The culinary journey will be served up in an inner-city Sydney restaurant by chef Nelly Robertson over three days in April, with apparently 20,000 people already signed up to the waitlist in the hopes of scoring a reservation.
Eating with a spork?
But US talk show host Jimmy Fallon recently made fun of the news, saying: "Guys, get this, KFC Australia is launching an 11 course fine dining menu with a wine pairing. Most fine dining meals don't include a spork."
We're sure there'll be no sporks in sight given a reservation costs $75 per person, with all proceeds going to support KFC Youth Foundation charity partners Black Dog Institute, ReachOut Australia, and Whitelion.
Article continues after this ad
Advertisement
And as KFC points out, reality TV has been training us to be hungry for weird and different food experiences for years.
"If there's something the last ten years of reality food TV has shown us, it's that you can make incredible food with the right ingredients, a creative mind and a pair of tweezers," KFC says on its reservations page.
So what's on the secret menu?
While most of the 11 courses are still as much a secret as the Colonel's 11 herbs and spices, some dishes have been revealed to whet diners' appetites.
They include Supercharged Wings; a Potato and Gravy course in which a potato bun is accompanied by a candle made of gravy that melts into the bun; Popcorn Chicken served with celeriac soup, mushroom gnocchi and basil; an Original Recipe drumstick dusted with quinoa and gold; and the Tongue Twister, which involves sauces dripped on a plate to resemble Colonel Sanders' face.
Article continues after this ad
Advertisement
Talk about plate licking good!
Do you think other fast food giants should have a go at fine dining too?
Main mage: KFC degustation reservations website
Article continues after this ad
Advertisement