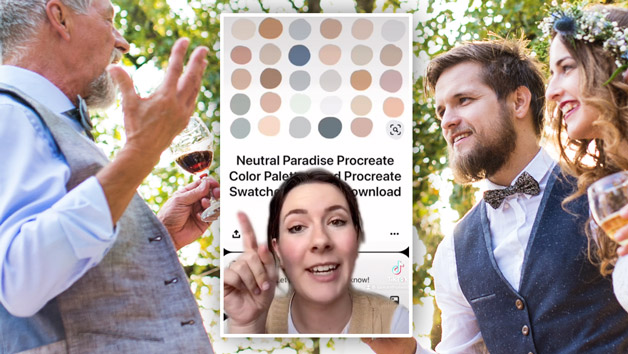 A bride has shared that she received backlash after her decision to have a colour theme at her wedding, requiring guests to follow a dress code.
Samantha Twist posted the viral video of her addressing the situation that left her wedding guests outraged, with over 400K views currently on TikTok. Currently with over 1.5K comments, there has also been a mixed reaction with viewers sharing their opinions on the matter.
Article continues after this ad
Advertisement
When replying to another TikTok creator sharing the idea of a colour themed wedding, Twist said she actually did do the same thing and got heaps of questions about it. The video starts with, "Unconventional things I want to do for my wedding. Send a dress code along with our invitations asking for light, earthy & neutral tones in their attire for the day."
Twist then explains she posted on her wedding website what guests should wear and what colours to avoid:
"Okay, so I actually did this and I'm getting some questions on it in another video. I posted on our wedding website some examples and just said "hey I would like it if you could wear something like this. Also colours to avoid."
She then explained the reaction from guests, saying they were outraged and were calling her and her husband about it. She continues:
"Basically everyone was outraged. I got so much crap for posting this. One of my aunts even told me if I care so much about what she wears she's just not going to show up. My mother in law was calling my husband (at the time fiancé) saying like, what the heck is with Sam? Does she not understand that people don't have money to buy a whole new outfit?"
Article continues after this ad
Advertisement
Twist says the backlash was insane and believed her request wasn't out of line as most people should have those colours already in their wardrobe. She says in the video:
"Everyone basically thought I was the devil for asking them to wear near neutrals, although I think most people have grey or beige or maybe blue in their wardrobe. Yeah but the amount of calls that my husband especially got and then our family members was insane."
Sneak peak at our wedding photos 😍😍😍 #weddingphotos pic.twitter.com/ziEU5I7PIG

— Samantha Twist (@TwistSamantha) October 24, 2020
There was a mixed reaction to the idea, with some supporting her decision saying it's an important day for the bride and groom and others saying it was a lot to ask for.
One person said it's not any different to having a 'formal' dress code saying, "Our dress code was formal. I honestly can't stand people that show up in whatever to a wedding. It's an important day, make an effort." Another backed up Twist saying the theme wasn't a big ask writing, "For the "it's a lot to ask" ppl-these are colour options that pretty much everyone already owns! & it wasn't a requirement! Black tie is harder🤦🏼‍♀️" to which Twist replied, "Exactly! & we were originally asking black tie but felt like that was too much $$$"
Article continues after this ad
Advertisement
One person said aesthetics are part of a wedding and that a theme helps everyone be coordinated. They wrote, "I don't get the hate. It's disingenuous to pretend esthetics aren't a part of a wedding. I personally love a theme! It's like we all coordinated!"
On the opposite end, a lot of viewers didn't agree with the bride saying for her to 'chill a bit'. One wrote, "It's a important day for you and a normal one for everyone else. Chill a bit. It's more important that people come and have fun and celebrate with you."
Others condemned the bride for wanting her wedding to be 'aesthetic', one commenting, "I would go along with it if asked, but also kinda think it's getting ridiculous how obsessed people are with looking 'aesthetic'" and another, "What weddings are actually supposed to be about: celebrating with family and friends, what weddings seem to be about these days: *aesthetic*"
Some even said it was controlling and that the bride should pay if she wanted her guests to dress a certain way. They said, "the way i see it, if im not in the wedding party and you are that concerned about what im wearing you can pay if i don't have something you don't like." And I feel this is in my soul. My brother's finance has just requested this & my immediate reaction is rage. Just seems controlling."
Addressing being called the devil, one commenter said she wasn't a devil but didn't show any empathy for her guests, writing, "I don't think you're the devil, you just didn't have empathy for how other people feel. I can't imagine the stress some people must have felt."
Article continues after this ad
Advertisement
Image Credit: (Halfpoint / Shutterstock.com | @samanthatwist / TikTok)