Google puts Aussie Animals in Your Living Room with Augmented Reality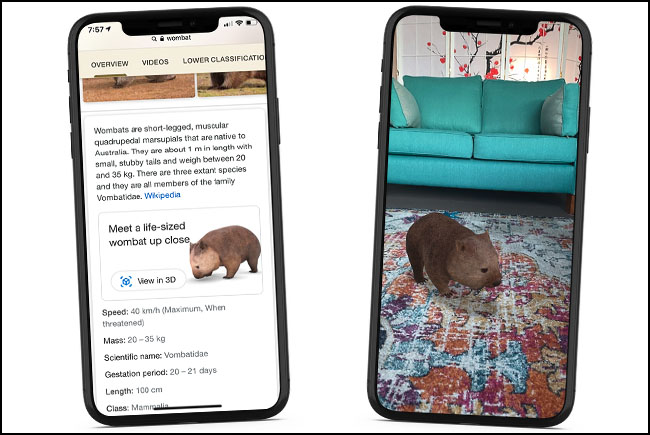 Google's Augmented Reality (AR) search results now include a bunch of iconic Australian animals to bring into your living room or office.
You can hang out with a koala, kangaroo, quokka, wombat, platypus, emu, kookaburra or echidna.
Strangely, Google didn't include our infamous drop bear!
Google has been putting 3D augmented reality animals into its search results since May last year, so if you've already done it, it's the same concept.
Just grab your smartphone and do a google search in your browser for one of the eight Aussie animals listed, then look for the special info box and click on the "View in 3D" link.
Suddenly you'll see a life-size kangaroo hopping on your sofa or an echidna sniffing around your kitchen through your phone's camera. If you're using Android, you'll even hear their sounds (iPhone users will to wait a little longer for this feature). You can make the animals smaller and you can take a photo or video of or with them.
It's sweet to see Google pay tribute to our unique animals given overseas tourists are a long way from visiting Australia with the covid travel restrictions.
Google says searches for koalas hit an all-time high globally in January this year after the bushfires devastated their habitats and populations, with the main trending search question being "Are koalas extinct 2020?".
In searching for these AR objects, people will hopefully learn a thing or two about the way our echidna and platypus lay eggs despite being mammals or be surprised at the hysterical laugh of the kookaburra. And that koalas are indeed still around.
Google has a whole range of objects you can check out in AR. In addition to our Aussie animals, there's underwater animals, birds, insects, household pets and dinosaurs. You can also travel to planets or go inside cells, visit cultural heritage sites, explore human anatomy and even check out the Apollo 11 command module.
Find out more about what objects you can view in Google AR here.
To use Google's AR on your phone, here's what you'll need:
Android smartphone or tablet: Android 7.0 or higher w/ pre-installed Google Play Store
iPhone/iPad: iOS 11.0 or higher